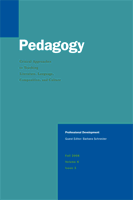 Pedagogy 8 (3): 2008
September 24, 2008:
Read essays by Lynne Rhodes and Suzanne Smith that offer insider views of professional development.
---
Note: This is / will be the entry to an extensive, interactive site devoted to faculty development in English, initiated by the special issue of Pedagogy [8 (3): 2008] that focuses on professional development.
Before the end of September, this site will launch with a full array of resources and tools for interaction and sharing of resources. So visit often.
(Web weaving collaborators: Glenn Blalock, Margaret Marshall, Joan Mullin, Barbara Schneider.)