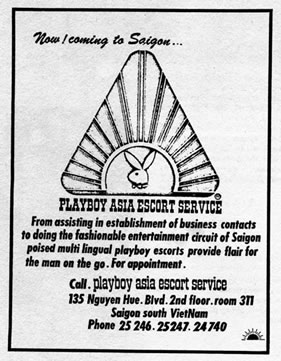 In the past 25 years, rhetorical studies have extended their analysis to the most ordinary of texts—cookbooks, graffiti, underground comics, student notes put in teachers' mailboxes, to name a few. Texts related to war, however, have largely remained unexplored (the exception is war propaganda).
Here is a text emerging from one of the undersides of war, prostitution services that spring up among local populations when foreign troops are operating for lengthy campaigns close by, within range of military leave. Locally produced at some letterpress printshop, this flyer is undated, but probably was being handed out to servicemen in Saigon around 1969-1973. In the States, Playboy Clubs started in 1960, and by 1965-1970 had expanded to US military bases in Nha Trang, Nui Dat, Tan Son Nhut, and elsewhere around South Vietnam. So the use of "Playboy" in the name of this "escort service" (complete with the "Registered" mark) is not surprising.
Nor is the thick patina of euphemism. Words and phrases such as "business contacts," "entertainment," "multilingual," "flair," and "man on the go" form part of an international language that says we sell sex to military men and visiting businessmen, congressmen, and other dignitaries, and we speak English and French. As for "escort service," the phrase is still standard for prostitution the world around, and stood as little chance of being misinterpreted as would "sauna parlor," which GIs sometimes referred to, a little more directly, as "steam & cream."
As for the graphic element, the bunny needs no explanation. But the design—at the bottom right as the printer's colophon (?) and expanded to surround the Playboy bunny—is beyond my competence. Is this the rising sun/lotus flower emblem? Any help?
I've copied the image of the flyer from Marilyn B. Young, The Vietnam Wars, 1945-1990 (New York: HarperPerennial, 1991), illustrations between pp. 50 and 51.
RH, April 2003